Prof. Georgios E. Romanos | 3 HOURS WITH THE EXPERT
STUDY CLUB
FIRST TIME IN GREECE
"Periimplantitis and Treatment Options for the Long Term Success"
The periimplant diseases are relatively common in the implant practice. There are many reasons leading to this problem. First time in Greece the speaker will present the diagnostic options and the different therapeutic options in order to achieve long term success. The role of the implant design, the periimplant hard and soft tissues, the prosthetic rehabilitation will be discussed in order to prevent periimplant problems in the future in Implant Dentistry

Information
Location: Merimna Institute, Athens Greece
Date: Saturday, October 17 2015
Time: 18:00- 21:00
Tuition fees: 100 euro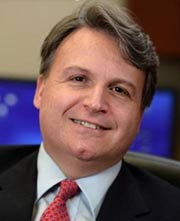 PROF.GEORGIOS E. ROMANOS
DDS, PHD, PROF. DR. MED. DENT,
PROFESSOR OF PERIODONTOLOGY AT THE STONY BROOK UNIVERSITY, SCHOOL OF DENTAL MEDICINE.
Professor of Periodontology at the Stony Brook University, School of Dental Medicine, Professor for Oral Surgery and Implant Dentistry in Frankfurt, Germany.
Fully trained in Periodontics, Prosthodontics and Oral Surgery in Germany and NY Board Certified in Oral Surgery and Implant Dentistry in Germany
Certificate in Periodontology and AEGD (Univ. of Rochester)
Diplomate by the American Board of Periodontology and the Int. College of Oral Implantology (ICOI)
Former Professor and Director of Laser Sciences at NYU College of Dentistry former Professor of Clinical Dentistry at the Univ.of Rochester, NY; Dental License in NY State and in Europe.
Fellow of the Academy of Osseointegration (AO), the Int. College of Dentists, ICOI, ITI foundation, American Society for Laser Medicine and Surgery and the International Academy for Dental Facial Esthetics.
Editorial Boards: IJOMI, Clin. Impl. Dent. and Relat. Res (member), J Prosthodontics (member), Odontology (Associate Editor), Photomedicine and Laser Surgery (member), Quintessence Int (member), Compendium (member), J Periodontology (peer review panel), Int. J Dent (member) and others; more than 250 publications, author of 5 books; over 500 presentations worldwide.
Interest Form
Fill out the form below and soon one of our representatives will contact you for further information and briefing.
[contact-form-7 id="3579″ title="Φόρμα Εκδήλωσης Ενδιαφέροντος EN"]