5-Day Masterclass in Aesthetic Dentistry
Location: Merimna Institute, Athens, Greece
Tuition fees: 1200 €
Dates: MARCH 11-12-13 & ΜΑΥ 06-07, 2023
Eastman Dental Institute
UCL Eastman Dental Institute is a world-leading, academic centre for postgraduate dentistry and translational research, based in London, UK. They offer an extensive range of high-quality, postgraduate study opportunities including Master's degrees, specialty training, certificates, diplomas and research-informed degrees.
The Institute also offers an extensive range of hands-on, CPD courses in dedicated facilities. These courses are led by practicing specialists, many of whom are also engaged with the full degree programmes. This ensures both a high-standard of teaching and a clinically-focussed approach.
The central London location is convenient both for London-based dentists and those travelling from around the UK or Europe. Moreover international students are able to attend CPD courses for the same fee as UK/EU students. UCL Eastman works in partnership with the Eastman Dental Hospital (EDH), part of UCLH NHS Foundation Trust (UCLHT), they enjoy long-standing, successful collaborations with international universities, the NHS, industry sponsors, small, medium and large multinational companies.

Members of staff are leading decision makers in Specialist Dental Societies, the Regional Postgraduate Centres of Health Education England (HEE) and Committees of the Royal Colleges of Surgeons, holding national examining and accreditation roles.
CPD courses are held in teaching facilities which comprise of four fully equipped seminar rooms; three skills laboratories with a total of 50 individual work stations, each with its own phantom head equipment and computer screen linked to a teaching station; five well equipped surgeries (with microscopes) for clinical sessions and an open space where peer groups can meet to discuss the day's teaching over tea and coffee.
The Institute was ranked 12th in the world for Dentistry in the 2019 QS World Rankings

Aims and Objectives
This course aims to provide:
• Knowledge and skills of clinical procedures in adhesive and aesthetic dentistry
• Knowledge and understanding of contemporary aesthetic biomaterials
• Improvement of the standards of delivered aesthetic clinical dental procedures
• Broadening of the options for treatment planning of complex aesthetic problems
Topics reviewed
• Aesthetic smile evaluation, aesthetic concepts and pre-treatment case documentation, treatment planning
• Occlusal records for the aesthetic case (casts, face-bows, interocclusal registration, semi-adjustable articulators)
• Dental photography
• Anterior and posterior composite restorations/adhesive dentistry
• Ceramic Restorations: veneers and crowns
• Aesthetic metal-ceramic crowns and bridges
• Tissue management, impressions for indirect restorations
• Aesthetic Periodontics: Anterior crown lengthening, extraction site preservation, recession coverage, augmentation
• Aesthetic cements and cementation techniques for ceramic restorations
• Interdisciplinary treatment planning for complex aesthetic problems
Teaching and Learning
• Lectures
• Step by step patient case presentations
• Interactive patient treatment planning exercises
• Ample hands-on training (in skills laboratory and clinic)
• Video demonstrations of clinical procedures
• Current literature compilation
• Evidence-based dentistry
• Interdisciplinary case approach
• Interactive review sessions with the turning point system
• Small instructors/student ratio

Dr. Konstantina Dina Dedi
DipDS, MS Cert in Prosthodontics (USA), FACP
Diplomate American Board of Prosthodontics
Specialist in Prosthodontics Fellow, American College of Prosthodontics Fellow,
International Team of Implantology
Principal Clinical Teaching Fellow, Director Aesthetic Dentistry Programmes,
UCL Eastman Dental Institute
Konstantina Dina Dedi qualified in Athens Greece in 1994 and after two years of private practice, she moved to USA. for full-time training. She was awarded the USA. Specialization Degree in Prosthodontics (Combined Crown and Bridge Removable and Implant Prosthodontics) in 1997 and the Master of Science in Oral Biology (MSc) Degree in 1999 from the University of Missouri Kansas City School of Dentistry in USA. as well as a degree in Maxillofacial Prosthetics and Dental Oncology in 1998 from the University of Texas Houston MD Anderson Cancer Center in U.S.A.
She then completed a one year dental teaching fellowship at the University of North Carolina School of Dentistry USA. Prior to her current appointment at UCL Eastman Dental Institute, she held the appointments of Clinical Assistant Professor in Prosthodontics, Director of Removable Prosthodontics Clinics and Director of the ITI Scholarship Program in the Prosthodontic Department of the University of North Carolina School of Dentistry in USA Ms Dedi was awarded the prestigious "Diplomate" specialty status from the American Board of Prosthodontics in 2002.
She has been elected a Fellow of the International Team of Oral Implantology (ITI) and the American College of Prosthodontics and she held memberships in the Academy of Osseointegration, the International College of Prosthodontics and currently the American Dental Society of London. In her previous appointment with UNC School of Dentistry, Ms. Dedi had been teaching in the postgraduate specialty programs of Prosthodontics and Implant dentistry, she was the course leader of the Removable Partial Denture undergraduate preclinical course and she was involved in several continuing professional development courses.
She has presented numerous lectures and continuing education courses in U.S.A., Europe and the Middle East on anterior aesthetics and immediate loading of dental implants.
Dina's main research areas of interest are: Dental Implants Immediate Loading and Anterior Implant Aesthetics. She practices in London's West End and her private practice interests include aesthetic dentistry, dental implants, fixed and removable prosthodontics, full-mouth rehabilitation and all-ceramic restorations.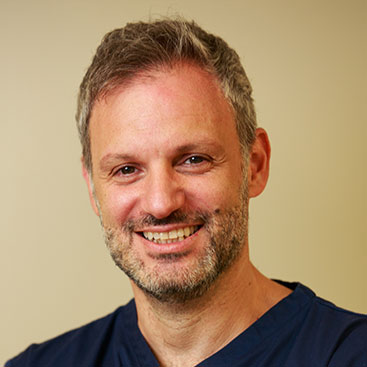 Dr. Nikos Mardas
Dipl.D.S, MS, PhD, Specialist in Periodontics Senior Clinical Lecturer & Honorary Consultant Centre for Adult Oral Health, Bart's & The London School of Dentistry & Hospital, QMUL
Dr Nikos Mardas qualified in Dentistry from Athens University in 1992; He completed his 3-year training as a specialist and the MS degree in Periodontology in 1997 and his PhD degree in 2005 at the Royal Dental College, University of Aarhus, Denmark.
During the period 2005-2015 was a Senior Lecturer / Honorary Specialist and M.Clin.Dent program co-ordinator in Periodontology Unit, at UCL, Eastman Dental Institute. In July 2015, he was appointed Senior Clinical Lecturer & Honorary Consultant (Associate Professor level) in the Centre for Adult Oral Health, Institute of Dentistry, within Barts & The London School of Medicine & Dentistry, Queen Mary University of London and Honorary Senior Lecturer in UCL, Eastman Dental Institute. At the same time, he is a consultant Periodontist & Implant Surgeon in 4 private practices.
Dr Mardas has published many papers in national and international peer-reviewed journals in the field of periodontal, bone regeneration and implant dentistry, he is editorial board member in Clinical oral Implant Research and reviewer for all the main international journals of his field. He has participated in consensus meetings of EAO, EFP and EADE. Dr Mardas has extensively lectured nationally and internationally and in 2011 was awarded the Basic Research Prize, of the European Association for Osseointegration. In March 2015 was appointed Education Delegate for the UK & Ireland ITI section.
Dr. Mardas has more than 18 years of private practice and university / hospital based clinical experience in treatment of periodontal diseases including conventional and regenerative periodontal surgery, periodontal plastic surgery, alveolar bone augmentation procedures and dental implants alone or in combination with bone grafting procedures.

Dr. Marianna Kontopodi
Visiting Lecturer, UCL Eastman Dental Insitute
Marianna Kontopodi graduated from Dental School of the Aristotle University of Thessaloniki in 2005. September of the same year she moved to England where she worked as a general dentist in private practice in Brighton and London. In 2006 she continued her studies at New York University, College of Dentistry and completed her Masters in Aesthetic Dentistry in July, 2008.
September of the same year she moved to London, where in addition to her work as an aesthetic dentist she worked as a guest lecturer with Eastman Dental Institute, (UCL) in the field of cosmetic dentistry. Since 2010, Marianna Kontopodi lives and works in Athens and Crete and participating as a lecturer at seminars in Aesthetic dentistry in Greece and abroad.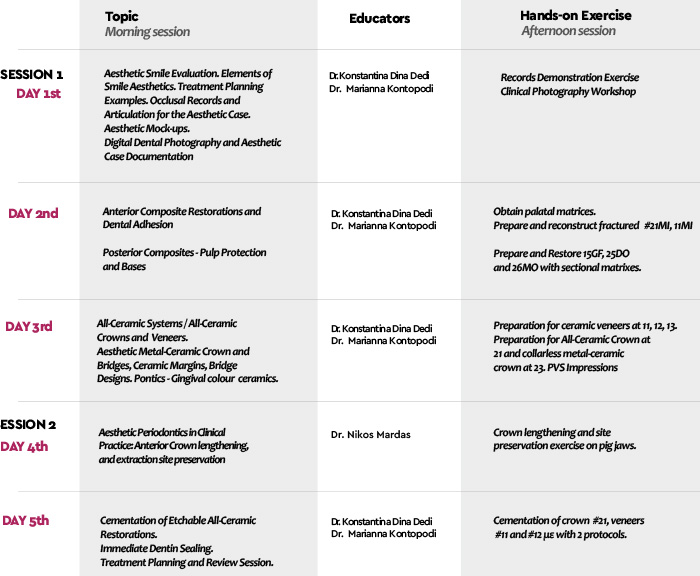 Interest Form
Fill out the form below and soon one of our representatives will contact you for further information and briefing.