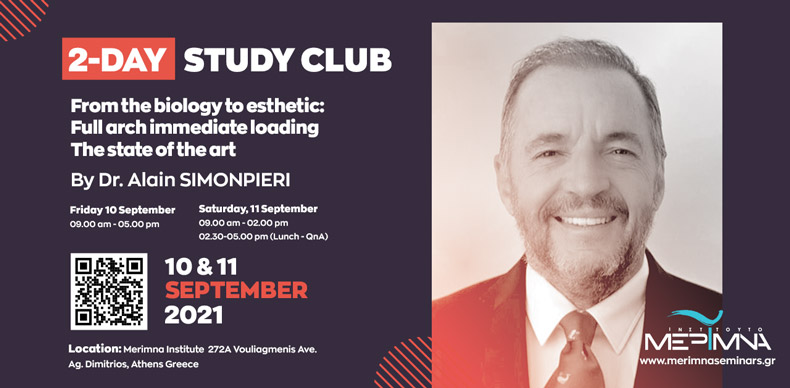 2-DAY STUDY CLUB By Dr. Alain SIMONPIERI
From the biology to esthetic: Full arch immediate loading The state of the art
Abstract
In Immediate loading, the survival rate is often based on the follow-up of the osseointegration, but without aesthetic appreciation….
The main goal is to achieve osseointegration and aesthetics with long term stability.
For this success we need to obtain both, bone formation and gum thickness, as any failure in one of the 2 factors will induce the loss of the second factor.
Several requirements have to reached in order to obtain and maintain them together for a very long time:
– Biological requirements are linked to the early vascularization (appreciation of the biologic level, growth factors, collagen environment).
– Anatomical & Surgical requirements will help to the best implant placement and positioning (Fast Guide system, sub-cregtal insertion, platform mswitching, etc…).
– Prosthetic requirements are essential for aesthetic as a guidance for soft tissue design (rigid and screwed provisional prosthesis).
This presentation will show my statistics about more than 1 100 full arch loaded immediately since 14 years (so more than 7 700 implants).
Speaker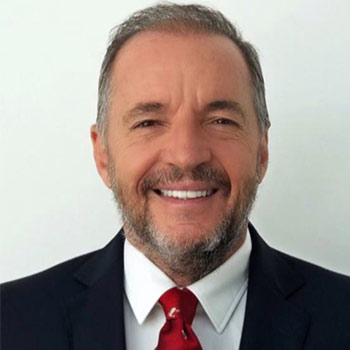 Dr. Alain SIMONPIERI
Doctor of dental surgery (DDS)
Professor of Oral surgery department, University Federico II, Naples (ITALY)
Post Graduate of Prosthetic Surgery and Implantology, Marseille (FRA)
Post Graduate of Surgery and prosthetic implantology, NYU (USA)
Post Graduate of Aesthetic in fixed Porsthesis NYU (USA)
Post Graduate of Periodontology, PARIS VII (FRANCE)
Diploma of Oral Implantology College, Implants & Sinus elevation, Paris (FR)
President SENAME international
Member of the ICOI & European Association of NYU (USA)
Dental Xp Expert (USA)
International Speaker: Biotech Dental & PRF Systems
Two Awards by the ICOI (2008, 2009) about publications on dental implants
Private practice in BEAUSOLEIL and MARSEILLE (FRANCE)
Founder of Aesthetic Implantology Institute (MARSEILLE)
Co-founder of Fast Guide and brushing technique
Many National and International Publications
Schedule
Friday September 10, 2021
09.00 am – 05.00 pm
Saturday September 11, 2021
09.00 am – 02.00 pm
02.30-05.00 pm (Lunch – QnA)
General Information
Dates: Friday September 10 & Saturday September 11, 2021
Location: Merimna Institute, 272Α Vouliagmenis Ave. Ag. Dimitrios, Athens Postal Code: 173 43 Greece
(Metro Station Agios Dimitrios)
Tuition fees: 900€
Interest Form
Fill out the form below and soon one of our representatives will contact you for further information and briefing.