Dr Dean Vafiadis | 3 HOURS WITH THE EXPERT
STUDY CLUB
"CAD/CAM DENTISTRY for private practice and restoring OVC WORN DENTITION"
Over the past few years there have been many advances in implants, aesthetics and occlusion. Using computerized techniques and digital impressions we can now predictably restore teeth in the anterior aesthetic zone. Implant restorations using new ceramic materials will be discussed and demonstrated. Using virtual models of articulation we can restore single units as well as full arches with computerized abutments. Using Aesthetic principles we can restore tooth aesthetics and facial aesthetics to its original beautiful colors. Evaluating different ceramic materials will also advance our knowledge as to when to use which materials for the worn dentition
Since our dental school education we were always told that "we could not open the bite". Many clinicians avoided treating the "worn dentition" others had great success. This program will help de-mystifiy with practical methods of how to restore OVD position up to 10 mm. The long term success of these patients with these techniques has been documented and recorded both radiographically and with photographs with up to 10 year results. Using sound prosthodontic principles and digital analysis these OVD restorations can become standard in our private practice. Anterior determinants and posterior determinants can show us the way through this gray area of dentistry
Information
Location: Merimna Institute, Athens Greece
Date: Friday, July 24 2015
Time: 18:00- 21:00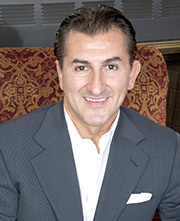 DR. DEAN C. VAFIADIS
Clinical Associate Professor of Prosthodontics at NYU College of Dentistry
Director of the Full-Mouth Rehabilitation CE course at NYU
Dr. Dean Vafiadis received his dental degree and Prosthodontic specialty training at New York University College of Dentistry. He is currently the Director of the Full-Mouth Rehabilitation CE course at NYU. He is an Associate Professor of Prosthodontics at NYU College of Dentistry.
He has lectures nationally and abroad for NYU Continuing Education department. Dr. Vafiadis published and lectured on various topics such as Aesthetics, Implant designs, Computer restorations, Ceramic materials and Occlusion. He is the founder of the New York Smile Institute in NY.
It is an educational center, full service laboratory and learning facility as well as a private practice location for a multi-specialty practice for Implant, Cad/Cam, Aesthetic & Implant Dentistry. Currently he is lecturing for the Continuing Education program at NYUCD for dental districts in US, Europe and Asia.
His patient base includes many Celebrities, Sports Figures, Fortune 500 Company executives, Producers, Directors and Writers in the film industry, Executives in the Fashion world and World renown Chefs and Restaurant Owners. He maintains his private practice Takashimaya Building near Rockefeller Center.
Dr. Vafiadis primary professional mission is to educate, publish and invent new technologies that will help change the dental profession and patients lives.He is a member of the ACP, AAED, AO, AAID, AACD and the ADA.
Interest Form
Fill out the form below and soon one of our representatives will contact you for further information and briefing.
[contact-form-7 id="3579″ title="Φόρμα Εκδήλωσης Ενδιαφέροντος EN"]