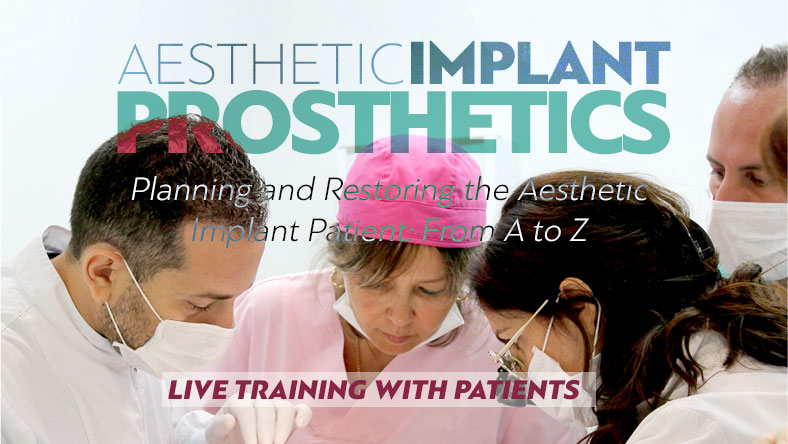 Aesthetic Implant Prosthetics-Clinical Participation Session
Planning and Restoring the Aesthetic Implant Patient: From A to Z
This clinical course is designed for dentists who wish to remain at the cutting edge of contemporary aesthetic implant dentistry.
Every participant will restore directly implant cases on at least 4-5 implants and also assist and get involved in all group cases, under the trainer's supervision. Types of cases will vary from single teeth in the anterior zone to full-arch/full-mouth rehabilitations.
DAY I (March 31, 2019)
DR. ATHANASIOS STRATOS, DR. MARIA GATOU, DR. IOANNIS PAPATHANASIOU
LIVE TRAINING WITH PATIENTS
Live training on metal framewok try in.
Clinical and radiographical evaluation of passive fit.
Management of metal framework misfits.
Live demonstration of the fabrication and the use of a verification jig.

---
DAY II (May 05, 2019)
DR. ATHANASIOS STRATOS, DR. MARIA GATOU, DR. IOANNIS PAPATHANASIOU
LIVE TRAINING WITH PATIENTS
Bisque bake porcelain stage.
Evaluation of aesthetic, phonetic and occlusal function of implant restorations prior to delivery.
Occlusal equilibration.
Delivery of the final implant restorations. Recall and Maintenance Schedule
OPTIONAL REVIEW OF YOUR PATIENTS –DISCUSSION
CERTIFICATION CEREMONY
General Information
Location: Merimna Institute, Athens, Greece
Dates: March 31 & May 05, 2019
Official Language: Greek (Translation in English)
Tuition fees: 1500 €

Dr. Konstantina Dina Dedi DipDS, MS, FACP
Specialist in Prosthodontics Diplomate, American Board of Prosthodontics Director, Aesthetic Dentistry Programmes Principal Clinical Teaching Fellow UCL Eastman Dental Institute-CPD
Konstantina Dina Dedi qualified in Athens Greece in 1994 and after two years of private practice, she moved to USA. for full-time training. She was awarded the USA. Specialization Degree in Prosthodontics (Combined Crown and Bridge Removable and Implant Prosthodontics) in 1997 and the Master of Science in Oral Biology (MSc) Degree in 1999 from the University of Missouri Kansas City School of Dentistry in USA. as well as a degree in Maxillofacial Prosthetics and Dental Oncology in 1998 from the University of Texas Houston MD Anderson Cancer Center in U.S.A. She then completed a one year dental teaching fellowship at the University of North Carolina School of Dentistry USA.
Prior to her current appointment at UCL Eastman Dental Institute, she held the appointments of Clinical Assistant Professor in Prosthodontics, Director of Removable Prosthodontics Clinics and Director of the ITI Scholarship Program in the Prosthodontic Department of the University of North Carolina School of Dentistry in USA Ms Dedi was awarded the prestigious "Diplomate" specialty status from the American Board of Prosthodontics in 2002. She has been elected a Fellow of the International Team of Oral Implantology (ITI) and the American College of Prosthodontics and she held memberships in the Academy of Osseointegration, the International College of Prosthodontics and currently the American Dental Society of London.
In her previous appointment with UNC School of Dentistry, Ms. Dedi had been teaching in the postgraduate specialty programs of Prosthodontics and Implant dentistry, she was the course leader of the Removable Partial Denture undergraduate preclinical course and she was involved in several continuing professional development courses. She has presented numerous lectures and continuing education courses in U.S.A., Europe and the Middle East on anterior aesthetics and immediate loading of dental implants.
Dina's main research areas of interest are: Dental Implants Immediate Loading and Anterior Implant Aesthetics. She practices in London's West End and her private practice interests include aesthetic dentistry, dental implants, fixed and removable prosthodontics, full-mouth rehabilitation and all-ceramic restorations.

Dr. Athanasios Stratos
DMD, Prosthodontist, Τuffts, Boston
Dr. Stratos graduated dentistry in Aristotle Dental School, Thessaloniki, Greece in 2003. He continued his education in Tufts University Dental School, Boston, USA where he received his diploma in the specialty of Prosthodontics in 2008. He was adjunctive clinical instructor in the department of Postgraduate Prosthodontics in Tufts Dental School.
He is a member of the American Dental Association, the Academy of Fixed Prosthodontics, the American College of Prosthodontics and the Academy of Implant Dentistry. He has a number of publication in dental journals and presentations in dental congresses in Europe and USA. His private practice is in Thessaloniki Greece, limited in Prosthodontics and Implant Dentistry.

Dr. Maria Gatou
D.D.S. MSc Prosthodontist (Ohio-State-University, USA)
Maria Gatou graduated from the German School of Athens (Deutsche Schule Athen). She received her Dental Degree (D.D.S.) at the Christian-Albrechts University Kiel, Germany. Maria Gatou completed her 3 year specialist training and the Master of Science in Prosthodontics at the Ohio-State-University, College of Dentistry,USA, in 1996. From 1991-1993 and 1996-1998 she worked as a Scientific Assistant at the University of Athens in the Department of Fixed Prosthodontics.
She is member of the Homeopathic Academy and is currently attending a three year training program in accordance with the standards of the European Committee for Homeopathy (ECH) και της Liga Medicorum Homeopathica Internationalis (LMHI). She is fluent in six languages : English, Italian, French, Spanish and Portuguese and holder of C2 in German. Her private practice in Athens is limited in Prosthodontics and Aesthetic Dentistry.


Dr. Ioannis Papathanasiou
DDS, MSc
Ioannis Papathanasiou was born in Athens in 1988. He graduated from the Dental School of Aristotle University of Thessaloniki in 2011. During 2012-2015 he continued his studies as a postgraduate student in Prosthodontics in the Dental School of Univesity of Athens (UOA).
He was awarded with IKY Greek State Scholarship for his postgraduate studies. He is an author and co-author of several publications on Prosthodontics and Esthetic Dentistry in international and greek scientific journals. He is a member of the clinical team of Dental Merimna in Athens and his clinical practice is limited to Prosthodontics and Esthetics.

Interest Form
Fill out the form below and soon one of our representatives will contact you for further information and briefing.
[contact-form-7 id="3579″ title="Φόρμα Εκδήλωσης Ενδιαφέροντος EN"]