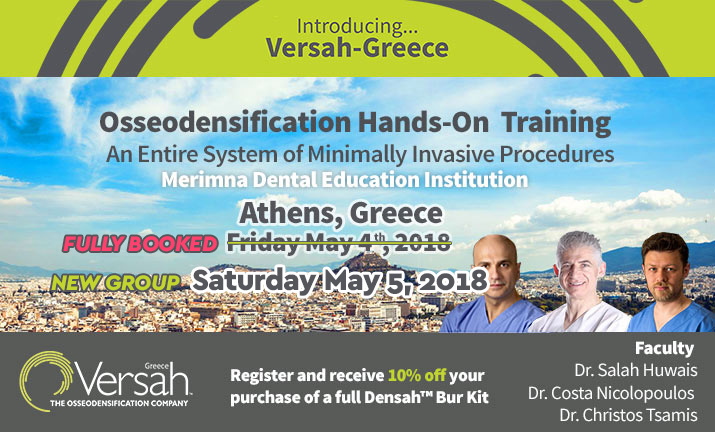 OSSEODENSIFICATION
ONE-DAY OF DIDACTIC LEARNING AND HANDS-ON CLINICAL SIMULATION
Optimize Your Implant Practice. Create More with Less
Any Implant, Any Ridge, In Either Jaw

The course will be taught and directed by Dr. Salah Huwais, the founder of Osseodensification, and Versah world-renowned faculty. Participants will practice on actual bone specimens and specially developed clinical simulation models.
Learning Objectives:
This whole-day training will minimize the learning curve and help understand the science behind Osseodensification.
• Sub-Crestal Sinus Lift
• Lateral Ridge Expansion
• Immediate Implant Placement with OD
• Guided Expansion Graft (2-Stage Approach)
• Universal Guided Surgery Protocol
– How can we preserve bone, plastically expand it,and enhance its strength in a controlled method?
– The effect of Osseodensification on implant total stability development for early and immediate loading.
– Risk assessment and avoiding complications

Dr. Salah Huwais, DDS
Dr. Huwais is the founder of Osseodensification. He maintains a private practice focusing on periodontics and surgical implantology in Jackson, Michigan.
Dr. Huwais completed his periodontics and implantology surgical training at the University of Illinois at Chicago. He serves as an Adjunct Clinical Assistant Professor at the University of
Minnesota, Dental Implant Program. Dr. Huwais lectures nationally and internationally on
periodontal and surgical implantology procedures.
He is Diplomate of the American Board of Periodontology and the American Board of Oral Implantology. Dr. Huwais is the inventor of the Densah® Bur technology.

Workshop Coordinators

General Information:
Tuition Fees: 550€ (Register and receive 10% off your purchase of a full Densah™ Bur Kit)
Date:
Friday, ΜΑΥ 04, 2018 (Fully Booked) – Group #1
Location: Merimna Institute, Athens, Greece
Saturday, ΜΑΥ 05, 2018 (New Date – New Group) – Group #2
Location: Titania Hotel – Athens, Greece Panepistimiou 52, Athens 10678 Greece

Day Schedule
09:00 – 10:30 Lecture
10:30 – 11:45 Coffee Break
10:45 – 12:30 Lecture
12:30 – 14:00 Lunch
14:00 – 16:30 Workshop
Registartion Form
Fill out the form below and soon one of our representatives will contact you for further information and briefing.
[contact-form-7 id="9880″ title="Φόρμα Εκδήλωσης Ενδιαφέροντος OSSEO EN"]

SPONSORS